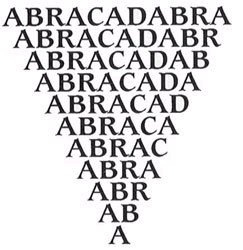 Abracadabra is a magic word used to cure diseases for centuries, traditionally written in an inverted triangle and worn as an amulet. But what if we wanted to make a musical amulet out of the word?
I have always been impressed with words that can be played as music, called musical cryptograms. Composers in the Baroque Period began using cryptograms to sign their name into their compositions. Here is Bach's name as a musical cryptogram (B, A, C, H is German B).
So in traditional musical cryptogram fashion, we can drop the Rs in abracadabra and use the relevant remaining note letters to make our cryptogram. Drag over the noteheads to listen to the tones, or press play to hear the incantation as it would be sung in church.
In Aramaic, it translates to "I create as I speak." In Hebrew, it is the Father, Son, and Holy Spirit. In mnemonics, it is the first 4 letters of the alphabet, A-B-C-D.
In music, abracadabra is in the key of A minor.
British intelligence man and black magic beast Aleister Crowley was way into abracadabra but he believed the true form to be "abraHadabra." For this spelling, we can replace the C with the German H (B) in our cryptogram, although the above is more musically satisfying.
Our musical amulet is now complete and ready to be worn around your neck. Here ya go.
Begone demonic sickness…

by