Alex & Chu, my 2 waifu…


Jeopardy! has a theme song that everyone hums while they think. It's the thinking man's thinking song. Even the lyrics are hmms, or if you're feeling fancy, doos.
Jeopardy! also has some classic sounds that act upon the listener like some Pavlovian magik.
If a player runs out of time trying to answer a question or no players respond, this is played.
Half-cricket, half-car horn; this sound is an alarming triplet of C major thirds. Like all alarm sounds—the door bell, convenience ding, and vehicular horn—the consonance of the major 3rd is a throwback to the Westminster Quarters bell song. The rhythm has a feel similar to the katydid. It is the sound of failure, worse than Trebek's dead-eyed scowl.
This sound below signals the end of the round.
Eight semiquavers are played twice with a beat of rest between them. The "B" is reminiscent of industrial sounds—the beeping of home appliances or other warnings from the power grid.
There are other styles of sound on Jeopardy! besides distress signals, such as the the tonal blong from the Final Jeopardy answer reveal.
The blong resolves quickly from an E leading tone to an F tone. The Jeopardy! Theme song is in C Major, as are many of the show's sounds. The Final Answer shifts the tonality up to the IV, like a plagal cadence. It seems to ask a question as it jumps up a whole octave to play the nearby F.1

Speaking of Fs…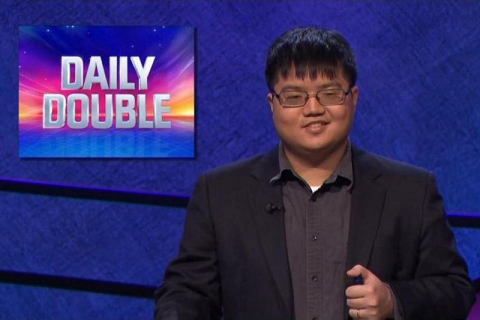 Who is my waifu? Who is Chu?
More Jeopardy! to come…


Notes:
[1]
Compare this tonality to the same idea used in Super Mario Bros. with the C Major Overworld Theme and F Kill Sound. The FM Bells and bloopy tones are also very Mario-like.