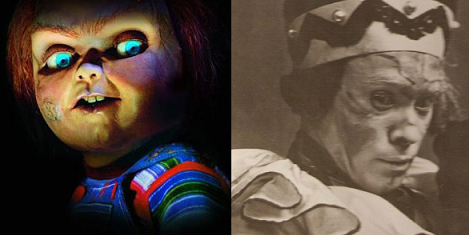 Chucky and Petrushka: Minions of the Octatonic
There is one scale that is so deliciously evil, it hasn't been heard for an hundred years. It goes by many names ― Octatonic (for its eight tones), Symmetric (for its perfect triadic symmetry), Diminished (for its Twin Diminished Keys), and Synthetic (for its artificial origins). This scale is so evil, it makes babies cry in the womb. Rather than soothe, it further enrages the savage beast. The harmonies of hell are thus attuned, and it is the tonality most favored by possessed dolls. The ancients dubbed it "the Devil's Pearls", and fearing it, they banished it from Pop Music forever. To you and I, it is simply "Half Whole".
Half-Whole
Named after its intervals, the Half-Whole Scale jumps up alternating half and whole tones, splitting the Octave into 4 equal parts. This division creates 4 symmetrical Tonics (C Eb F# A), stabilized with Perfect Fifths (G Bb Db E), that can be harmonized as either Major or Minor, and are surrounded by Diminished chords.
Octave = 12
Half = 1, Whole = 2
Half + Whole = 3
12 / 3 = 4 Tonics
Major chords = 4
Minor chords = 4
Diminished Chords = 8
Major and Minor
Major and Minor Chords represent the continuum of pop music, evoking the happy and sad with their Major and Minor Thirds, respectively. But look out, because Half-Whole has got Major and Minors everywhere, incestuously sitting in the same spot, stuck on the same degree.
Too much Major and Minor renders the Half-Whole Scale rather silly and tiresome. Taken out of their usual tonalities, these Major and Minor Chords come off as ambiguous and affectively flat. Dissonances and consonances run together in one sinister stream ― a disenchanted loom that snuffs consciousness into dissciousness.

Diminished Chords
Somewhere in between Major and Minor, or perhaps ever below them, is the Diminished Chord, composed entirely of Minor Thirds. The Half-Whole Octatonic Scale has Eight Diminished Chords, one on every degree. How awful!

Don't they sound just like Possessed Sugar Plums?
Minor Thirds consist of 3 Half Steps (a whole and a half) and are known as the Sad Tone, but in this context it is perhaps best to call them the Mocking Tone. Children use Minor Thirds to mock each other in "Nana Nana Poo Poo" and adults sing "Ass-Hole" at sporting events in Minor Third intervals. A scale made of Minor Thirds is called a "Diminished Scale" and forms the basic harmonic division of the Half-Whole Scale. Behold the mocking potential of the Twin Diminisheds!
Tritones
Add two Minor Third intervals together and you get what is known as the Tritone, or "Devil's Tone" (6 Half Steps). The Tritone is an oft-used musical dissonance, heard frequently in Metal, and anytime musicians need to call upon the Dark Forces [1]. Once again, the Half-Whole Scale has got way too many of 'em.
As per half-whole symmetry, there are numerous Major and Minor Tritone possibilities. Below is the Classic Evil Rock Chord Progression ― two Major Chords a tritone apart.
Stack these chords on top of each other and you get the "Petrushka Chord" used by Igor Stravinsky to accompany the murderous puppet in his ballet Petrushka. [2]


The 7 Sacred Modes
The Half-Whole Scale, in its bloated Octatonality, encompasses the Seven Modes in incomplete bastardized forms. Trapped inside an Half-Whole prison, they scream out to be heard, but they are deformed and barley recognize their own voice. They have become
monster modes
.
Each of the modal flavors is hinted at ― Ionian firmness, Dorian coolness, Phyrgian darkness, Lydian silliness, Mixolydian funkiness, Aeolian sadness, and Locrian mysticism.
In Pop Music
As a musical device, the reverse scale ― the Whole-Half Scale ― is found in many modern songs. One such example is found in the opening guitar lick of the Radiohead song Just.

This song showcases the sparing use of the Half-Whole Scale as described by the old masters, who thought it trite and tacky to make a whole song based on it. Few bands are stupid enough to dare to try to frame that fearful symmetry.
Shameless Epilogue Plug:
The Los Doggies' song "Hey Kids" features heavy use of Half-Whole trickery to evoke the psychedelic sickiness of American childhood.
Notes:
[1] The Dark Book, Sacrifix.
[2] Petrushka, Igor Stravisnky.