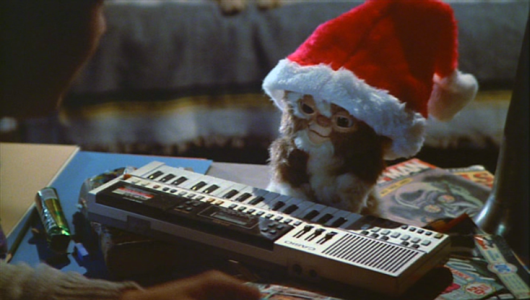 Once in an eternity, a mogwai comes along with a voice of silver and a heart of gold. Most of his kind are shady Chinese spirits, who suffer midnightly cravings, and a bad case of aquaphilia. They certainly can't whistle Dixie and play little keyboards in key. Fully acculturated, Gizmo sings a C# Major folk melody in a seemingly I → IV chord progression.



But like the secret trickster he is, Gizmo withholds the tonic C# from his song, yet it is implied in the tonality. If Billy Peltzer was a better musician (or worse), he might have played these chords (with a capo of course), in a kind of interspecies jam. Try it out on the widgets above and below.
Here is a short clip where Gizmo teaches Billy his song.
It seems Billy wants to make Gizmo's song Lydian here. Instead of an F#, he mistakenly hits a G. That's ok, mogwai have perfect pitch.
Upon metamorphosis, they lose all sense of music and morals. In the clip below, they can barely sing their own Rag as they terrorize the elderly Mrs. Deagle.
Everyone knows reptiles can't sing! Only mammals can sing baby!